Opsy #14: Let's hangout
It's that time again! (Time for us to meetup, obvi.)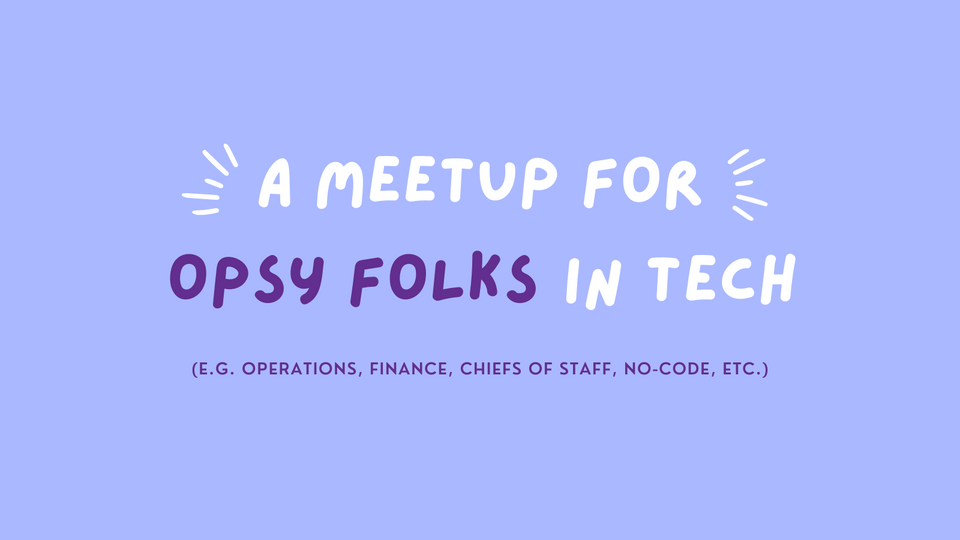 It's that time again! (Time for us to meetup, obvi.)
Join us for the Opsy Winter Meetup next week. ✨
It's on Thursday, February 24th at 11:00am ET. (That's 8am for you west coast folks and 4pm for y'all in London.) And it's free!
As always, we'll have some lightning talks and speed networking. This always makes for a fun way to learn something new and grow your network.
The event is capped at 50 people so save your spot today.
ICYMI
A new podcast ep dropped earlier this month!⚡
I chatted with Theresa Joseph, COO of Statusphere about:
The COO role and how it may (or may not be) different from other ops leadership positions
How her ops team is structured and all the hats she wears as COO
When it's time to 'give away your legos' and hire a subject matter expert to take a department to the next level
Prioritizing recruiting and employer branding as a company and ops team
... and so much more!
Listen to the episode (or read the transcript) here.
Links & Opportunities
Have an opsy article, podcast, or event to share? Hit reply to let me know.
When to delegate, when to say no... and when to let some fires burn. 🔥 This blog post from Lara Hogan has a helpful framework for those times where you know you have too much on your plate but need some help taking a step back to reprioritize. I feel like I'm good at this... until I'm really not, so I found the matrix helpful.
Build Weekend: If you've been thinking about building a particular no-code project (for work and/or fun) but haven't made the time, check out this free hackathon-style event next week. Open to no-code newbies and experts alike!