Opsy #36: We're back!
Coming back from our winter hiatus with a few goodies for you.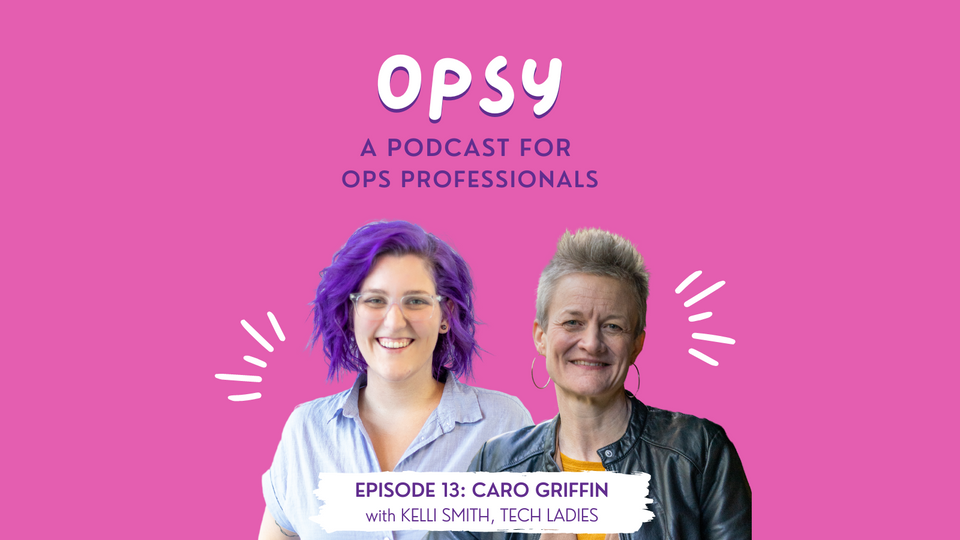 We're back from our winter hiatus with a special episode of the podcast. (I know, I know, I call a lot of them special. But I really mean it this time!)
I asked my good friend Kelli Smith, one of my favorite operations pros and Opsy's very first member (!), to interview me.
We talk about all things Opsy, my role as General Manager at Tech Ladies, and how I went from art student to web developer to operations in the first place.
You can listen on Opsy.work or wherever you get your podcasts. 💜
Resources & Opportunities
Have an opsy article, podcast, or event to share? Hit reply to let me know.
How startups can hire top talent right now: People ops expert Jennifer Kim has a knack for delivering timely #realtalk that we need to hear as an industry. Her latest piece on why startups can't get complacent with their hiring during a downturn is a must-read.
CFO Secrets: "The Secret CFO" has been blowing up on Twitter recently and now this pseudonymous expert has a finance newsletter geared towards current and aspiring leaders. Worth a subscribe for ops folks trying to improve their finance chops. (Related: The FP&A Prep newsletter has some gems, too.)
State of Retreats Report: Retreat-planning company Retreat organized a survey of +80 companies that held offsites last year and shared interesting takeaways. For example, the average retreat cost $2,100 per employee and took 4 months to plan.
PS. I recently interviewed a dozen leaders of Employee Resource Groups (ERGs) to gather best practices for running and growing an ERG in tech. If you're thinking about how to retain and support your team this quarter, I encourage you to check out our guide and/or register for our upcoming panel on the topic.