Episode 4: Operations leadership
Operations leaders are an important role at any growing startup. But what's the difference between a Director and a COO? And what are they responsible for day-to-day?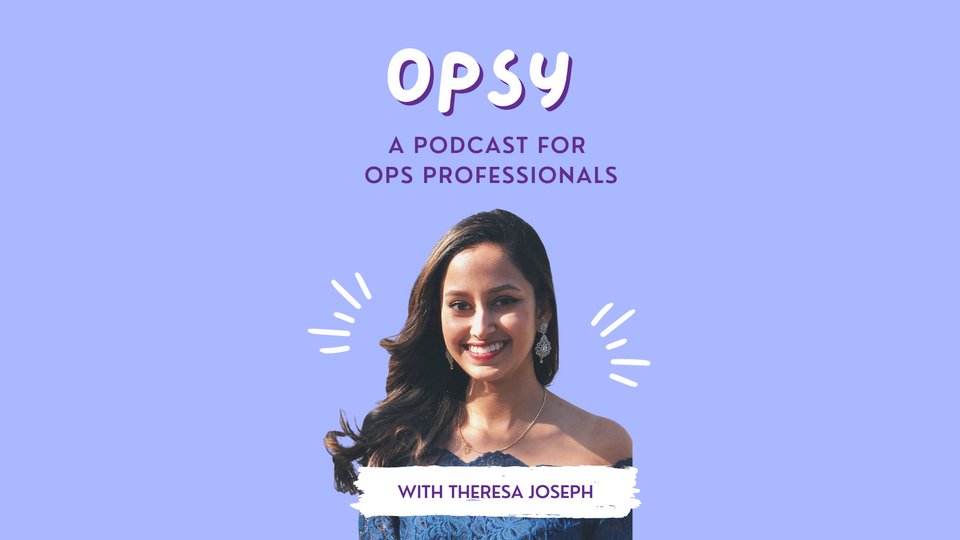 Operations leaders are an important role at any growing startup. The titles may vary (Director, VP, COO) but the job is usually the same—do all the things that need to get done!
Their to-do list usually includes anything and everything outside of Product, Engineering, and Marketing but (as today's guest will prove), sometimes it's includes a few of those things too. This means there's not always a lot of clarity around titles and job descriptions for the senior ops pro on the team.
What functions should they be responsible for? What does their day-to-day look like? And what kind of experience do they need to do the job?
In the newest episode of the Opsy podcast, we're discussing all these questions and more with the COO of a growing startup.
About Our Guest
Our guest is Theresa Joseph, Chief Operating Officer at Statusphere, a startup that helps companies and social media influencers find their perfect partners.
Theresa studied marketing and finance in college before learning the opsy ropes at NASA (yes, that NASA!✨) and ultimately realizing that she preferred the fast-moving pace of startups.
Statusphere has almost tripled in size since the start of the pandemic so Theresa is a great person to talk to about the importance of the COO role at a growing startup—and how that role changes as the company grows.
About this Episode
In this episode, we chat about:
The COO role and how it may (or may not be) different from other ops leadership positions
How operations is structured at Statusphere and all the hats that Theresa wears as COO
When it's time to hire a subject matter expert to take a department to the next level
Prioritizing recruiting and employer branding on an ops team
The importance of reflecting on progress and celebrating wins
... and so much more!
Listen Now
You can listen to Opsy on your favorite podcast platform, including:
Your ratings and reviews help other people find us. Please consider leaving one if you like the show. 💜
✨
Don't forget to join the Opsy community! If you are an operations pro working in tech, or just want to learn more about operations, we'd love to meet you. Join our community for free here.
Show Notes
Stay in Touch
Resources
Transcript
Caro Griffin 0:03
Welcome to Opsy, a podcast for people doing opsy work in tech. I'm your host, Caro Griffin. And every month I dig into what opsy work really is by talking to an operations pro who has something really cool to teach us in a traditional part of ops like HR or finance, or a newer specialty, like no-code ops or marketing ops. Thanks for listening!
Caro Griffin 0:29
Today, I'm here chatting with Theresa Joseph, the Chief Operating Officer at Statusphere, a startup that helps companies and social media influencers find their perfect partners.
I first met Theresa when a former coworker connected us to bond over our mutual love of ops. And the minute we jumped on the call, I knew I had found a kindred spirit.
Operations leadership can be a lonely road, especially at a startup, where you're often expected to do all the things all the time while being a great manager, a great leader, and often a great partner to the CEO too. NBD, right?
At the same time, a lot of us operations folks kind of stumble into operations, so there's not always an obvious path for growth. And even when there is the titles are pretty nebulous—COO, Director of Ops, Head of Ops... what do these people do? What does it actually look like?
Well, today, Theresa and I are going to dive into all these topics and more. She is a wealth of knowledge. And I know you're going to get just as much out of our conversation as I did.
Alright, Theresa, let's start at the beginning. Tell us a little bit about your career path so far, and how you ended up in the COO role?
Theresa Joseph 1:37
Yeah, absolutely. So my educational background is in marketing and finance. And it just came from a dual interest. I consider myself to be naturally a people person. I love marketing, communicating with others, and selling something. That's always been of interest to me. And, on top of that, I always just enjoyed processes and learning financial principles. To me, that just seemed like a skill that would take me anywhere in life, whether on a personal level or within business. So I pursued both of those in my educational experience. And I do find that both of them suit me really well in the role that I'm in currently. So that's from an educational perspective. And then my first experience was actually as a financial analyst at NASA at the Kennedy Space Center.
Caro Griffin 2:21
Just casually slipping that in like, "My first role was at NASA." I love it! I'm like, "We're gonna have to geek out about space after this." But continue!
Theresa Joseph 2:30
Yeah, it... I don't know, I think back to that. I'm like, "Wow, that was a really insane opportunity." And it was, it was so cool. There were really cool perks, like you got to see like rocket launches up close and everything. But, during that time, I learned a lot about how governments operate and how there's a lot of red tape, a lot of bureaucracy. I learned a lot about what finances look like at such a large institution like that. Large-scale budgeting, planning, process improvement. Because it takes a lot [to coordinate] government planning and processes.
So that was just a really eye-opening experience for me. It actually made me realize that that kind of slow-paced growth and movement is not something that I was into. And, while I was super thankful for the opportunity, I wanted to pursue something different. So, I think I've mentioned already that I had always been really into marketing and communicating with others. So, I found myself in the digital marketing space working with nonprofits. And that really gave me a great understanding of like event planning, execution, fundraising, and paid social media and PR efforts.
And all of that, I think, are skills for any entrepreneur or any ops person to just have a baseline understanding of because it's a matter of getting your work out there, essentially, and making sure that it's known and followed. So all of that kind of led me to then start our studio, which is a nonprofit, coworking space based in Orlando, Florida.
They provided workshops and programming for budding entrepreneurs. And that's actually where I found my business partner, Kristin Wiley, who is Statusphere's founder and CEO. She, at that point, was a one-woman show, very early stage and was just looking for a partner to kind of take Statusphere, our company, to the next level.
So, if there's anything I can share about this it's that, with ops, I think positions... and, generally speaking in startups, there's just never really a straight line, in my experience, at least. But what I can share is that everywhere I went I just tried to learn as much as I can and build super great relationships with people that could vouch for my work ethic and my character and everything.
You never know where each position is going to take you. But listen to your heart, obviously, and go with what you feel is best for yourself.
Caro Griffin 4:34
Yeah, I love that it all started with finance and marketing because I feel like that's not a combination that you see a lot. But it makes so much sense as someone who wants to be involved in businesses. They're two such crucial pieces, but I don't feel like I see that combo a lot. We should see more of it probably because I think too about how those unique combos are the things that give us our superpowers, right? Like I love doing People Operations but also finance and the no-code ops I've really gotten into. And, so, it's that combination that gives me my skill set and the fact that you are so tied into marketing as an ops leader and also the space. I'm sure there's a tie in there somewhere.
Theresa Joseph 5:07
Yeah. Statusphere, stratosphere... You know.
Caro Griffin 5:10
Oh, there you go! See? That one's been made before, I'm sure. Yeah. Okay. Well, super cool. Also great that you met your founder at the coworking space. I feel like that's such a startup "meet cute".
Theresa Joseph 5:23
Exactly. Yeah. It's like a coworking love story. The person that introduced us – Actually, her name's Dale Moore. She's actually working at Statusphere too now. It's just a perfect love story, I tell you.
Caro Griffin 5:32
Oh, I love it!

Okay, so let's talk about your COO role. So, you're the chief operating officer of Statusphere. How do you approach that role? What do you see as being your main job when there's so many hats that fall under that role?
Theresa Joseph 5:44
Yeah, I just want to underline that and echo that. There's so many hats.
Prior to me even having a "main" job, I feel like I was the person that was wearing all the hats. I was previously doing sales, marketing, customer success, billing, all of it. And each day... now that we're at 50 plus full-time people, that has obviously changed. We now have full-on departments that are owned, and people are doing those things individually. But I would say just being agile and kind of doing different things in the startup environment has been super helpful.
Now I would say my main focus is just developing our team, both in growing the total number of people that we have on the team and then making sure that they are successful when they're part of the team. So, ensuring that we're building a super awesome workplace where everyone can be super proud of the work that they're doing, to essentially just attract and retain top talent.
That's kind of like the people ops you mentioned. I feel as though that's what I'm naturally moving towards next, having kind of built out some of these other sub-departments for Statusphere. Now it's just more like supporting the overall team as a whole, I'd say.
Caro Griffin 6:47
Absolutely. So did you say you have 50 team members now? I feel like that is a lot of growth since we last chatted.
Theresa Joseph 6:53
Yeah! Actually, so we went from, before COVID or around COVID, I should say, we had 10 people. And now we're actually at 50 full-time, but 70 all in—part-time, full-time, interns, everything. That's just from the pandemic, essentially. It's crazy the amount of growth that we experienced in a year. And I think, I mean, I wouldn't have guessed, essentially, that the pandemic would have led to all this growth and opportunity. But it's been such a growing... just a lot of growing pains and a lot of growing opportunities I think that we've learned as a result.
Caro Griffin 7:23
Okay. So, I definitely have a lot of follow up questions about ops leadership in the COO role. But I feel like this is the perfect opening to talk about your team and kind of what the pandemic has meant for you guys, because, you know, you were a co-located team mostly based in Orlando before the pandemic hit. So how has the transition been to remote?
Theresa Joseph 7:41
Yeah, I mean, there's nothing like having everybody together in one room. It's kind of hard to kind of recreate that connection. But I would say that we've, you know... The pandemic and just working remotely, if anything, it's allowed us more flexibility to retain and attract awesome talent, people that we would not have been able to work with before, unless they were willing to move to Orlando. So it's allowed us to become more flexible. Now we have people from all across the coast... coast to coast, north to south. That includes permanent full-time, part-time and interns.
And, you know, we really are intentional about creating these connections, even when working on a remote team. So, you know, we love sending everybody our teal-branded Statusphere box with some welcome goodies, including just extra products and things that we have from our brands as well as a welcome note. And we always get such phenomenal feedback from people that they're not expecting something like that. So, that's really nice and something that we do to keep everybody connected.
We also utilize Slack. You know, we have obviously work-related chats, but then we also have ones for things like food, where people share what they're drinking or making. You know, what kind of food they had at a restaurant. We have one – it's a crowd pleaser - animals of Statusphere - where people share pictures of their pets. Sometimes they're dressed for Halloween. Funny enough, parents sometimes even post pictures of their kids in the Animals of Statusphere chat. And I'm like...
Caro Griffin 9:01
Oh, snap! That... Wow!
Theresa Joseph 9:05
Yeah, yeah! And then, you know, we have a movies and TV where people will ask like, "Oh, you know, I'm looking for something binge worthy to watch this weekend. Anybody have any recommendations?" So it creates those kind of like watercooler type conversations while still working on a distributed team.
We also have the Slack extension Donut, which is really awesome. Have you heard of that?
Caro Griffin 9:25
I have. I feel like there's definitely people listening who don't know about it. So yes, please tell us about it.
Theresa Joseph 9:29
I think there's a number of ways that you can use Donut. But the way that we use them at Statusphere is we pair different team members across a bunch of different departments. And essentially, Donut pairs [people] for us within Slack. And just randomly it'll be people again, cross-departmentally, and it'll actually read everybody's calendar and availability and ask them to book a time for a short lunch that suits everybody's calendar. We use it as an awesome way to kind of bring everybody together and have just a fun non-work related lunch together.
And, to kind of incentivize this, Statusphere covers everybody's lunch. So we just give them a stipend, and we allow them to kind of have fun and have at it. And it's been really great. We do it about twice a month. So every two weeks or so. And, yeah, it's just a great way for everybody to come together.
Caro Griffin 10:13
I love that. And I love that you pay for that. So, logistically, have you found that people do it?
Theresa Joseph 10:16
Yeah, yep.
Caro Griffin 10:17
Oh, that's cool. Okay.
Theresa Joseph 10:19
Yeah, yeah. We... You know, if there's some reason [a team member is] going through a busy period of, you know, their role, or they want to pause for a little bit, we always tell them that they can actually leave the channel and then come back when [things are] less hectic or their schedules slow down a little bit. So it's been really great. We've gotten really good feedback about it.
Because there's, you know... When working on a remote team, when we're as large as, or what I think of as large as we are, you kind of just realize that you're on the island, and you don't maybe necessarily know what, you know, Suzie Q does in marketing when you're on the product team, for example.
Caro Griffin 10:47
Yeah and it makes it so much easier to build those connections when you have a little bit of a foundation to... especially when you have something work-related that you want to reach out to Suzie Q in marketing about. You're not cold... It's not like starting a Slack conversation with someone you've never talked to before. You know, you have something to build on.
So yeah, I know a lot of teams have been using that these days. And I just... It's been years since I've used it. I've always struggled to get participation and engagement where I was like... I didn't want to make it mandatory. But I wanted to encourage it. And so I think walking that line is really interesting. And I love that you sponsor the lunch. That's a fun little touch, especially, you know, since you have the distributed team members now who can't walk down and get coffee with you in Orlando.
Theresa Joseph 11:21
Yeah, I think that helps us. I think by covering it, it essentially incentivizes people in case they weren't maybe so interested before. So that point? Pro tip, for sure.
Caro Griffin 11:30
Yeah, absolutely.
So, when I was prepping for this interview, I came across a couple articles actually about your Orlando location and how you and your founder fought hard to keep the company based there despite some investor pressure to move to New York or San Francisco or LA.
So a lot of people in the Opsy community are outside those kind of... what we think of as tech hubs. So I really wanted to talk to you about this and hear a little bit more about this decision. Why was it important to you all to stay in Orlando?
Theresa Joseph 11:54
So yeah, that caused a lot of ripple effects. The fact that we, you know, stood our ground about this. And, for us, what it came down to is, if we were to fundraise money, our fundraising dollars, and just overall profit and revenue, would go so much farther in a place like Orlando, Florida, than someplace like San Francisco, New York, LA. So, for that reason, we just figured this makes more sense to us.
We can stretch our fundraising dollars so much farther in a place like this. It has a lower cost of living, but we can still, you know, provide a great working, livable wage to everybody. You know, Orlando does have, I believe, one of the biggest airports in the nation that you can fly out of so it makes it super easy and accessible to go to these, you know, different metropolitan areas that were mentioned.
But, on top of that, we just really... we trusted each other. We listened to our intuition. We knew that this business had a lot of potential and opportunity for growth. And, you know, we stood our ground and made the argument, and it ended up working out for us really well. And he agreed with us. And he actually went on to invest in other Florida-based local companies.
Caro Griffin 12:57
So cool!
Theresa Joseph 12:59
Yeah! So it worked out for us. And, you know, I think people will look at us and think, "Wow that was that was pretty risky to do." But I think that's kind of how businesses... you kind of have to stand up for what you believe in and make the arguments because, you know, you can't just fall for anything, essentially.
I think it was... it was difficult to maybe stand our ground looking back. But it just made sense for us. And it's really worked out well. And I think, even now, with COVID completely changing the work environment, more and more companies, including ours, going fully remote and then staying remote because it's just provided so many benefits to us. I think that absolutely changes the game as well for this original argument that was made to move our company to maybe more of these metropolitan areas. In fact, I think on the west coast, people are actually moving from California. It's a crazy cost of living. And there's other things going on there that they're just not happy with and pleased with. So...
Caro Griffin 13:50
Yeah, absolutely. So it sounds like you've really embraced remote work as a way of working. How many of your employees are in Orlando or in kind of the surrounding areas versus remote now?
Theresa Joseph 13:59
Great question. I would say there was always a hub in Orlando because that's where we started. So I would say it's probably about maybe 30-40%. That's in Orlando, but now it's I would say it's overwhelmingly just everywhere else. You know, we're in Indiana. We have people in California, Michigan, everywhere across the states, honestly. And it's been really great for us.
Caro Griffin 14:20
Very cool. So your team... You have people in Orlando. You have people remote. You've adjusted to this remote working. What does recruiting look like now that you're looking wider than Florida?
Theresa Joseph 14:31
Yeah, great question. So recruiting has always been really important to Statusphere because we we need to make sure that we're getting awesome people that fit our needs, our culture, all of that. And recruiting now has just become a focus of ours actually at Statusphere.
I think sometimes people in ops, maybe they're doing this on the side, and then they're doing a million other things as well. But we have found that recruiting is obviously... You know, we have full time recruiters at different companies. That we've realized at this stage that we're at that we needed one to solely focus on this and drive the best candidate experience.
And, you know, a big part of this now is just building out our employer branding. Building out a Glassdoor page because we don't have one right now, currently. And, while we have so many team members that love working at Statusphere, how do we get that out more so that way people know about us and are excited about our culture and the benefits that we provide? All these really cool things that we're doing behind the scenes that we're not necessarily putting out there. And not because we don't want to but because we just don't have anybody owning that and working on that and making it an initiative to get out our awesome parental leave policy or 401k that we just rolled out.
Caro Griffin 15:43
Yeah! So you've now hired a recruiter that's really focused on that it sounds like, not only as part of your COO duties. But how do you kind of fit someone's owning that but you're still involved in it? How do you juggle that?
Theresa Joseph 15:55
Yeah, I would say that's probably one of the most difficult things in my role. Because having been the person to wear all the hats and then you're kind of having to train somebody else to wear the hat you're like, "Oh, yeah. I don't want to let go of this but how do I let go of this and tell you all the things that are in my head?"
So, for me, I think what's been helpful is leaning into documentation. So we use something called Confluence here at Statusphere. It's probably similar to like Notion, other kinds of wiki pages that people use. And, when I think of something that I feel is important for us to keep in mind for the recruiting process or just kind of tidbits that we should be sharing with our candidates, I am really leaning towards just documenting it within our Confluence recruiting page to make sure that it's then put somewhere and not just floating around in my head. And then discussing this with our recruiter in a one-on-one to make sure that that information is of course disseminated to them, but they understand it and then can kind of speak to that during the candidate experience. I think that's been one thing that's been very helpful for me.
Caro Griffin 16:56
Yeah, totally makes sense. I think giving away – I know, I've referenced this in the podcast before, and I feel like I'm going to be a broken record by the end of the season – The Molly Graham article [about] giving away your Legos. Because it's just so true. And I I feel like it's true for a lot of startup people but particularly ops leaders who are wearing all those hats and... your job is to wear hats, right? And then to give them away. And, you know, obviously... like recruiting was something you've kind of had to give away. What other things are you working on giving away this year?
Theresa Joseph 17:25
Yeah, yeah. I mean, even some of the other things like the customer success and making sure that we're... how do we take that to the next level? And, thankfully, we have an amazing team member – her name is Kate– that we just brought on as our VP of Customer Success, and she's done amazing work to just level us up.
So it's a matter of taking us to a certain point, but then realizing, "Okay, it's not like we can do everything. In anything, what's that critical point that we need to actually hire a subject matter expert that can really take us to the next level?" I think that's one of the arts, maybe not science, to ops and growing a company and in entrepreneurship in general.
But I will say, once you make that decision and kind of bring somebody in that's been there, done that, it is just... I can't sing its praises enough. It just makes a lot of sense. And it was an investment for us, but it really was amazing. And we've really leveled things up from that perspective. So it's just... You do the work of building out all these departments, and you get it to a certain point. But then you realize, "Okay, I can't do everything in anything anymore. How do I get in these people that can take it to the next level and educate them on maybe how we've done things so far?" And saying to them, "this is how we've gotten by, but I'm not saying it's perfect. I'm open to your feedback and wanting to receive that feedback too."
You cannot... I feel like there's a certain level of letting go of ego that happens when you're building a team and building a company and just dividing responsibilities among people. Because, otherwise, you're not going to get very far if you're just stuck in your ways and feeling like your way's the best way.
Caro Griffin 18:59
Definitely! I was just having this conversation today about a new hire where me and my boss, we're talking about how we want this person to know our processes and to feel confident in them but also be completely comfortable throwing them out the window because you get so close to these things, right? And then the business changes, and the process doesn't necessarily evolve with it. And you're holding onto things that you don't need to be holding on to anymore.
My favorite is to go into a company and to be like, "Just a question. Do we need to be doing this?" Sometimes there are just things that you do because you've always done that you can just stop doing. And I've definitely been that person who needed the outside... who was like, "I'm so overworked and over it now, and I need some help." And then I've gotten help, and the help has been someone being, "You can just stop doing this. It's fine. Look what happened. You stopped doing it. Nothing breaks."
Theresa Joseph 19:48
Exactly! Exactly! I think something that also has helped us as well is we are 100%... It is one of our cultural tenants... We are very much so innovation focused. We welcome feedback. We want feedback. But how about, within the first 90 days, just learn what we do, just really try to get a thorough understanding of everything. And then kind of compile all of your feedback and ways of improvement and then just lay it on us that way.
That person, they're not just looking for things to fix maybe outright because maybe there's a certain reason. It's okay. It's going to take you some time to get leveled up in your position anyway. But just learn as much as you can. And then, inevitably, there will be process improvements that person will find. And I feel like that's worked out really well for us.
Kate, our VP of Customer Success, like I mentioned, she spent a lot of time in her role just absorbing and learning so much. And then, within 90 days, she came to us with her plan of improvements for the team. And it was so great because it allowed us the time and space to kind of have her reflect, have us actually communicate everything to her without just overwhelming her with all this information. And now we can make a plan to take action and implement these changes in question.
Caro Griffin 20:56
Yeah, sometimes I feel like it's like asking someone to drink from a fire hose, right? It's just so much stuff. And especially in our customer support job, where it's literally their job to kind of know everything. And there's just so many... I feel like only when you're training that customer success person do you realize how broken some things are. You have these legacy customers on an old thing. And you're like, "Oh, yeah. Well, when they do this, you just kind of do this over here and hope for the best."
Theresa Joseph 21:21
Yeah, yeah. Exactly.
Caro Griffin 21:23
Okay, so we talked about recruiting, customer success... Tell me a little bit more about how Statusphere is structured and what kind of departments or organizations live underneath the ops umbrella.
Theresa Joseph 21:35
Great question. So, actually, I would say ops... The timing of it all... The way that you asked me that... because we recently just started a people ops department, and I'm realizing now that that is probably more so where we need to focus ops now at least for Statusphere at this time.
So, outside of people ops, we have customer success. We have product. We have member relations. We have sales. And then we have sales development. So, those are all the departments that live at Statusphere.
But, like I said earlier, I think that, at our company, we're realizing that we're growing so, really fast. And we have the need now to lay the structure with benefits. You know, implementing a 401k program, parental leave... Like what does our communication policy look like if we're trying to maybe move towards asynchronous communication? These are things that we need somebody to own. And, previously, it was quasi me, when I was wearing all that different hats. But now we have a fully focused team that does this.
So, my people ops team as it stands right now looks like: our office manager/admin, who is actually looking to get her SHRM HR certification, which will be amazing for us because we are looking to bring on somebody internally within HR as well.
We have our head of recruiting, who is kind of working with me to do exactly what we talked about, which is just getting all the ways out of my head and kind of expressing how we've been doing recruiting to this day and having her kind of own that. Because otherwise, it's just too difficult. And, on top of the recruiting, she's also leading up our DEI initiatives, which I feel are really important for any people ops sort of division out there. So those are two things within her realm of responsibilities.
And then we have that recruiter I mentioned. So, she's helping us with sourcing candidates, actually providing the communication to all of our people that are within the interview process, making sure that we're providing the best, most optimal experience and just being proactive about looking for candidates and maybe not necessarily having them come to us. Because, like I said, we need to work on our employer branding a little bit, getting the word out about how awesome we are. And, until that point, we need to go put ourselves out there, right?, and get people to know about us and let them have us come to them essentially.
Caro Griffin 23:52
Yeah, right. I mean, obviously, we're in a hiring market that many of us have not seen in our recruiting careers. It's really a candidate's market. So it's so important to do that.
And, also, kind of like... you're talking about these DEI goals, right? Like, if you want to have a diverse team, you can't expect necessarily those people to come to you, especially if you're... So many companies are going off referrals, and you just get more employees that look like your current employees and have similar backgrounds and experiences. And so it's so important.
And I think... I just remember there being a point in my recruiting career where I was working at a remote company back when there weren't that many remote companies. And that took us a really long way. And we did have some good employer branding. And so I didn't necessarily have to [go looking for candidates]... But then I realized that I should still be doing that because it's so valuable to [do so].
Theresa Joseph 24:37
Exactly. It'll get you so far. Your careers page and all that will get you to a certain point with organic influx of candidates and everything. But, when you're getting those more seasoned hires, they're looking for certain things, and you need to make sure that you're putting it out there, what you're doing internally really.
Caro Griffin 24:56
Yeah, especially you're talking about hiring the VP of Customer Success. Those are such crucial roles that can really steer the company. It's important to get right and not just choose from the people who come across your careers page.
Theresa Joseph 25:09
Yeah, yeah. And, on top of that, I would just add relationships. Building relationships with those more seasoned hires too. So, Kate actually... She, funny enough, she was working, I think, at the gym next door to the Statusphere warehouse. And she maybe had been familiar with us just being a part of the Orlando community herself as well. And we just bumped into each other, and one thing led to another. And we just kind of had a coffee chat with her to learn more about her experience. And we cultivated that relationship over time. And that's what led to us having her join the team.
So there's something to be said about going out and recruiting candidates and all that. But you also... it's so important to just build relationships with everyone that you meet because you never know who they know and who they can refer, and it'll all come back full circle.
Caro Griffin 25:56
For sure! You're just full of "meet cutes" here – coworking spaces, warehouses next to gyms. I'm like, "Just check out Theresa's neighborhood. You might find the perfect role at Statusphere, y'all."
Theresa Joseph 26:07
That's so funny! Yeah, you're so right. I mean, what are the chances looking back? It's pretty surreal. Yeah.
Caro Griffin 26:13
So, that's great. You're doing something right. There's someone's head peeking out from the gym...
So, obviously, you went from really having, sounds like, your hands pretty dirty in the marketing space and working in a coworking space, meeting your founder. And I feel like that founder relationship between the most senior ops pro or the COO or the Director of Ops, or whatever the title is, and the founder is such a crucial relationship because you're really steering the ship, as it will be.
I would love to hear you talk more about that relationship and how you think it steers the company and how you two choose to work together and stay in touch with what I imagine are so many moving pieces.
Theresa Joseph 26:54
Yeah, yeah, that's a great point. I think one of the challenging things when working in building a company from scratch is some of the things that we've already talked about, like letting go of the reins and kind of building people up to trust them to run with things. And I find myself and Kristin... I'm not gonna speak for [here], actually... but, myself, I'm working on just creating space in my day to be proactive and strategic, like planning ahead with her versus just being reactive and feeling like we're putting out fires all the time. So, this is a work in progress.
But some things that we're doing include, it sounds so simple, but, during our weekly one-on-ones... actually, there's plenty of things that come up during the week, right? But making sure that they're all documented in one place. So, that way when you get to that time of the meeting, you're not having to think like, "Oh, wait. What did I want to talk with her about?" It's all in one place. And you can just kind of get through things on your agenda very, very quickly and efficiently that way. And it's all documented. So, that way you can then refer back to it later and build on it, add any additional notes as needed. Talk about the next week. You know, just building upon a structure of documentation and notes when things are coming up all angles is super helpful to me.
The other thing that we're trying to be better about is just managing our schedules. Because there's a lot of people just coming at us all day, sometimes it feels like. What I'm doing personally is just blocking my calendar a bit more for heads-down focus work that I absolutely just need to do and accomplish and cannot have meetings booked on me and having people call me and all that. I think that's what it comes down to: just creating the space to be more strategic than reactive is super important and something that we're continuously working on.
But what's great is I feel like we're getting to that place. Speaking for myself, being in an opsy role where you're wearing so many different hats and you're doing the billing and you're doing the invoicing and then you're doing the finances one day and then you're doing the customer success and you're talking to a client... Having people to eventually take on and specialize in those roles has given me time to sit back and look at the business as a whole and think ahead. So that's one thing.
The other is just making sure that you slow down and recognize the wins, I think, and just how far we've come. Because it just feels – I say this all the time to Kristin and sometimes other team members – like you're you're on a hamster wheel, and you're just going, going, going. and you're like, "Oh god!" You forget to get off the wheel, and you look back and you're like, "Whoa! We're at 70 people on payroll. We just rolled out a 401k? We have health insurance now? What are these things?" These are firsts for us. And doing this? For some people on the team, it's the first time that they're ever even getting health insurance at all in their career. It's a big deal that we're able to provide these opportunities.
So it's... Obviously there's so much work to be done and you have to be strategic and do all these things. But I think it's important to recognize the wins and give yourself some credit as well because, otherwise, what's going to keep you going if something crashes in your face and things kind of crash and burn? You've got to reflect and think back to the wins to keep you going when when things inevitably get rough.
Caro Griffin 30:09
Are you familiar with Lara Hogan's donut manifesto?
Theresa Joseph 30:12
I think I've heard of this, but remind me.
Caro Griffin 30:15
So, she's a developer turned leadership coach. I love everything she's written. – I'll have to put her info in the show notes, particularly for people stepping into leadership roles in tech. – But she had this great thing she did a few years ago about how she found that she wasn't celebrating the wins. It was kind of like you're talking about: you're on a hamster wheel. You go from one thing to the next without celebrating. And she loves doughnuts so she started having a doughnut every time she was celebrating, and she started taking a picture of the doughnuts. And she just has this little donut manifesto landing page. And I have kind of taken it as my own, and I do cinnamon rolls because they're my favorite. And it's like taking a moment where you're like, "This donut is for giving that talk or finishing that project or having that tough conversation." Or, then at the end of the year, you can look back at the album on your phone, the doughnuts and be like, "Look at all the cool doughnuts I got accomplished this year. That is awesome."
So, yeah, Theresa. I will be circling back to figuring out how you're going to celebrate your wins!
Theresa Joseph 31:08
Yeah, I think it's hard. I find it so easy to celebrate other people, like on the team. I'm the first person to be like, "Oh, my God! This person killed it." We also do this thing now we rolled out called Status Stars. It's pretty cute. People get to nominate other people across the team for a job well done, whether it's exhibiting a positive attitude, excelling in a project, killing it with a work ethic, whatever it is. And I feel like that helps kind of foster these moments to sit back and be like, "Wow. I did that. And I'm getting recognized for it at my company's all-hands." But it's like you said, I don't know what it is. Is it like an opsy thing where we just take on a lot, and you just are super hard on yourself? If you don't get through all of it on your day? I don't know. I'm trying to be better with it.
Caro Griffin 31:53
Yeah! I mean, I won't speak for all of us. But I do think we're like those background people who just want to be so helpful. We take on so much and then usually don't want to be on the stage, which is why I give so much credit to all of you ops people for coming on this podcast because I know it's not the natural instinct for most of us.
But yeah. I think it's important to shout it out. So maybe we'll circle back and see what it... Actually, I feel like that's a cool community poll, right? How do you celebrate? I would love to get everyone making more of a habit of that and seeing how people choose to celebrate. But I digress!
So, a couple more things to wrap up here. I think ops roles are so nebulous, and I talk about this all the time as part of this community. But I think especially ops leadership roles, because so many of us do kind of stumble into them. You know, we're director of ops, head of ops, ops manager, COO. What does it all mean? And so I'm curious, when you think about ops leadership, do you think that there is a big difference between Director of Ops and COO? How do you think about ops leadership?
Theresa Joseph 32:52
Yeah, that's a great question. I think it really depends on the structure of your team. Because we live and breath this where you're in ops, you're just doing all the things, you're doing one thing after another, you're taking on all the work. But, eventually, that is not scalable. So, to me, depending on the structure of your team... for example, if you're based in the US and you're just doing domestic work now but maybe eventually you want to go globally, then maybe you'll have a head of operations that oversees global business branches. But that person should probably report to a director of operations that's seeing things from a bird's eye view both within the US as well as globally.
So, to your point, yes, there's a lot of ambiguity when it comes to these different titles. But I think if you're looking at like, "Okay, what's my next step?"... To me, maybe look within yourself. How many things are you doing that you think could probably be another position description all together, right? And, within that, state your case to say, "Okay. I think it's time that we maybe have somebody that's solely owning accounts payable, invoicing, billing, etc." And, while I've done all this work so I can easily – maybe not easily — but I can manage this person and kind of show them the ropes about how we've been doing it so far." And that within itself should probably warrant a title change of some sort or some sort of increase in responsibility and, most likely, pay as a result because you're going on to manage other people. You're training other people.
So, I think, to your point, there is a meaningful difference. It just depends on the team structure and what it is that you're trying to accomplish, essentially.
Caro Griffin 34:23
That makes a lot of sense.
So what advice would you give to someone who thinks that they might want to be a COO at a startup one day?
Theresa Joseph 34:30
I think just not being afraid to learn. I'm learning every single day. I'm the first person to say I do not know all the things, and I think that goes for a lot of our leadership team. Actually, we're learning every day. So, I educate myself all the time with different management articles and blogs and podcasts. I love learning from other people in the opsy community as well. So shout out to you for building this community. It's awesome.
And just learning different approaches. Productivity systems to motivate teams. Learning how people would want to be communicated to and what are some ways that they want to be coached. Just because I have an idea does not mean that it's going to necessarily translate to a team always. So, just not being afraid to learn, I think is one thing.
And building great relationships. It's like you said, it seems like I do have a lot of "meet cutes" with people, coworking love story, all that. Within ops, you're doing so many things. You're touching so many different departments. You're providing so much value. And, on top of that, if you're just a really great person to work with, people kind of have a certain draw to you, and people will love working with you. So, I think it's important to build a community around you, have people that can vouch for you, vouch for your work ethic, vouch for your vision. Yeah, I feel like it's those two things, just not being afraid to be a lifelong learner and really pursuing that. You know, you cannot know all the things, and it's just... it's good. It levels you up. It makes you more valuable to the team, especially if you can share that knowledge with the team.
I found this, for example. Are you familiar with the Pomodoro Technique? It's this whole productivity system that really allows you to focus on one task at a time. So, for example, you set a timer within these 25-minute increments, and you're focused on one thing. And then, within those 25 minutes, after they pass, you have a five-minute break. And it just allows you to focus and not be so disrupted when there's people Slacking you all day. Plenty of projects and fires to put out, right? So, I found this Pomodoro free app online, and I just shared it with the team and linked out an article actually about the Pomodoro Technique because not everybody knows about it.
So just learning these things and sharing the value with others is so important. And building great relationships. I'd say it's... I think both of those things are really key for anybody to be valuable, but I think especially within ops leadership.
Caro Griffin 36:54
Yeah, that makes a lot of sense. So – and I also feel like you gave me the perfect transition here – about showing off your work. So, this is your time to brag. So, you know it's hard to show off your work as an ops person, especially in a tangible way. I want to put the spotlight on you and your great work and dig into an ops project that you're either really proud of and/or an opsy win you've recently had?
Theresa Joseph 37:17
So, for us, we are a female-led team or female-founded, where we have three members of executive leadership that are all women. And I would say we're majority women at our company. So, for us, I would say parental leave was a biggie.
We wanted to make sure that we got it right for our current team members, our future team members. We just knew this type of leave is so essential and especially in this kind of climate. I think there's been a lot of news about how the US isn't always the most progressive when it comes to this sort of thing so I wanted to make sure that we did it right. And we built something that we were really proud of essentially, but I knew that it couldn't just be something that we just ripped off of another company. I wanted to make sure that we were super intentional about it and even asked our current team members.
So, to your next point about how did we approach it? So, that's what we did. There are current parents on the team who have already had children. And I asked those specific parents what would they have ideally wanted back then when they were new to having their child. I set out specific questions to ask what they had in previous plans that they were given so I had something to compare against essentially. And I also looked at what our needs were as a business, what our department needs? What do our hiring needs look like for each so that way we could provide a generous amount of time off leave but also wouldn't negatively impact the business?
So, with all that research given and responses given from the current team members, I then conducted research as a whole about what does the market look like, what are other US smart companies doing, what are international companies doing, and how can we find something that fits us and Statusphere. The whole goal was to create something that was super generous and competitive to other offers out there, which is, again, really important to us as a female-lead team.
What we landed on is about 4.5 months of paid leave altogether. We have different policies in place for birthing mothers. They would get a certain number of weeks off. And then parental leave for bonding for both mothers and fathers and adoptive parents at that. So, that would run then thereafter. And altogether it equates to about 4.5 months of paid leave. And, on top of that, we will work with each and every parent to make a return-to-work plan because it's not always so easy when maybe your your child is so young to get back to work. So what does that look like? Would you want to work part time for a little bit? Do you want to take off certain afternoons to breastfeed, for example? That's all important to us.
So, I would say there haven't been things that have gone wrong just yet. I'm sure, as we experience people that are actually participating in this parental leave policy, we might experience things and encounter things that we can improve on that we just haven't foreseen just yet. So, even when we rolled this out, we said, "Hey! You know this was created with a lot of intentionality. But you know this is a pilot program, so to speak. You know we're going to iterate on this over time, if it doesn't work for whatever reason."
So, we're very open to your feedback. We got a lot of really positive, overwhelming feedback that people were just excited. We had some people just joke around. They're like, "I want a baby just for this policy." And I would not recommend that, but they were really excited about it. And I appreciate the fact that we were thinking about these things ahead of time.
So, I would say that we really wanted to mix and match what's going on domestically, what's going on in the US. I mean, in the world at scale, at large, I should say. And, yeah, I feel pretty proud of what we've accomplished now. And, you know, it wasn't reactive. Like it wasn't because somebody on the team was already pregnant. And then we're like, "Oh, crap! We need to put together this policy and put it out there, which...
Caro Griffin 40:52
As we all know is so often how it happens in startups, right? Like you don't have the policy until you need the policy. And then it's...
Theresa Joseph 40:58
Yeah, exactly. No, no, we want to get ahead of this. And we want to do it. So, yeah, it was something that we wanted to just do with a lot of care and intention. And so I'm pretty proud of it.
Caro Griffin 41:10
Yeah, that's awesome.
Well, thank you for sharing. And thank you again for being on the podcast and sharing your opsy wins, your opsy journey.
And tell us: So, Statusphere is the company. Everyone, check it out. And, obviously, they're hiring. And, if you don't just run into Theresa in the grocery store, check out their careers page if you're looking for a place to grow.
And, then, where can people find you online if they want to talk to you about building parental leave policies or NASA or any of the other great things you've talked about today?
Theresa Joseph 41:38
Absolutely! I'm all about relationships so please feel free to connect with me on LinkedIn. My full name is Theresa Joseph. On Instagram, I can also be found at Theresa Joseph as well.
Caro Griffin 41:48
Great. We'll put those links in the show notes and stay opsy, folks!
Thanks for listening to Opsy. You can find resources and links from this episode in the show notes at opsy.work. And, while you're there, I hope you'll take a second to join our free community where we share resources and opportunities that help us all level up in our ops careers. Again, that link is opsy.work. Until next time, stay opsy, friends!
🎙️
Interested in hearing from more operations leaders?
Listen to
Megan Bianco's episode of the Opsy podcast
to hear how she transitioned from recruiting to ops leadership... and ended up leading a travel startup through a global pandemic. 👀