Opsy #3: Let's meetup!
I'm hosting our first ever Opsy Meetup - and I'd love to see you there!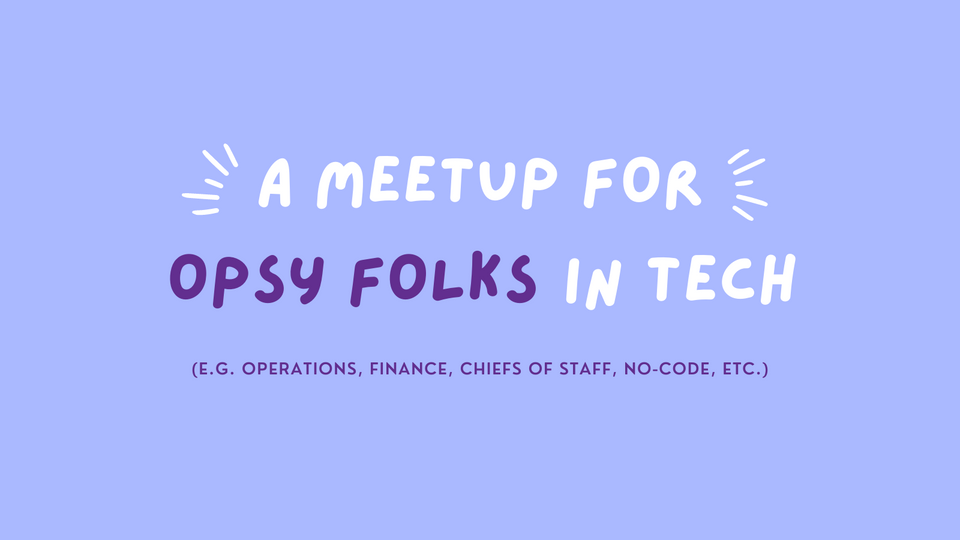 I've spent the last month talking to a bunch of you via email, LinkedIn, and casual Zoom chats and I'm excited to report back on my biggest takeaway...
Y'all are awesome.
So awesome that I'm starting to feel a little greedy for keeping you all to myself! 😅
You can help me assuage my guilt by joining me for the first ever ✨ Opsy Meetup ✨ on Thursday, Oct 21st. It's at (the hopefully America-and-EMEA-friendly time) of 11:00AM ET and will be a great opportunity to learn something new + grow your network.
Here's the format:
Lightning Talks —Three ops pros are going to take the stage for five minutes each to teach us something that will improve our workflows.
Speed Networking — I'll use Breakout Rooms to pair you with at least three other ops pros for 1:1 chats. (I'll even give you a prompt to keep the convo moving!)
Yep, that's right! Give me just 45 minutes on your calendar and you'll learn at least three new things AND meet at least three new people. (What a no brainer!)
The event is capped at 50 folks so save your spot today. 💜
On the Blog
We're gonna test out some different themes and formats on the blog over the next few weeks. Lmk what you like and find helpful!
First up is a tutorial on how to build your own Applicant Tracking System (ATS) with no-code tools.
This tutorial will be most helpful for:
Founders and people ops folks who don't want to spend thousands of dollars on a tool like Greenhouse or Lever.
Newbie no-coders who are interested in an intro to Airtable or Zapier.
Links & Opportunities
A special edition for all my job-searching folks!
The operations section of many job boards can feel like a wasteland (if it even exists at all) so finding mid and senior-level ops roles at good companies can feel like the latest edition of Mission Impossible.
The two newsletters below are two of my most-shared links for people who are both actively job searching and those who just want to better understand what kind of opportunities (and new titles) are out there.
Ali Rohde Jobs shares a round-up of BizOps & Chief of Staff roles at tech companies.
ExitUp spotlights all kinds of non-technical roles at tech companies. Expect to find a decent number of roles across BizOps, CoS, VC, finance, strategy, etc.