Opsy Guide to Design Operations
Find out the essentials and get insights from the experts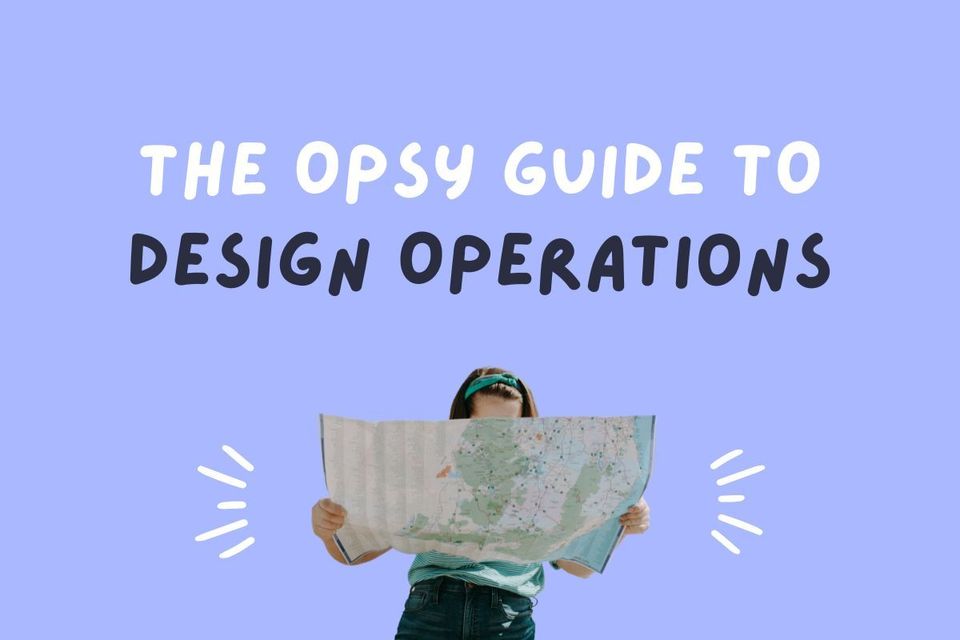 Design Operations may feel new but, as Dominique Ward recently explained on the Opsy podcast, the core of the work has been around as long as design itself.
"The reality is that, regardless of whether or not you have a Design Ops function or team or someone who is explicitly in the role, design operations is happening."
And happening it is! Design penetrates every area of business nowadays, whether physical or digital.
But what is Design Ops? Why is it so valuable to an organization? And how can you learn more about the field?
After the fascinating chat with Dominique, we couldn't resist digging even deeper into Design Ops!
Why We Made This
We know that designs operations (like a lot of operational functions) brings a lot of value to teams and organizations, but that it can be hard for an outsider to wrap their brain on exactly what and how Design Ops works in practice. That's why we went straight to the experts!
We interviewed specialists from the Opsy community to put together this guide that will answer all of your questions.
What You'll Find Here
You'll hear what Design Ops is—and what it's like to work in the field—directly from the folks who do it day in and day out!
So, whether you're considering a career change, curious about what your design friends are up to, or are hoping to borrow some best practices to do your own job better, we've got you covered. 💜
🎙️
Don't forget to check out the Design Ops episode of the Opsy podcast!
Dominique shares how her path into Design Operations started with robots and what it's like planning three years ahead.
The Opsy Guide to Design Ops
What is Design Ops?
Dominique Ward, Head of Design Ops at Atlassian:  "I look at design operations as really designing design… My philosophy about design operations is that designers should focus on design, design managers should focus on managing the designers and the work and moving that along, and then design ops handles everything else."
Angelos Arnis, Design Lead, Flowhaven: "DesignOps is the profession of establishing systems, processes, and the conditions for Design to flourish in an organization. I see DesignOps as change by design, if that makes sense."
Patrizia Bertini, Head of Experience Design Operations at TrueLayer: "DesignOps is a transformational function that delivers tangible benefits to both the business, the design teams, and the design leadership through strategic initiatives that impact operational and spending efficiencies to maximise the business value of design."
Farid Sabitov, DesignOps Consultant at EPAM Systems: "DesignOps is answering how design is done within the organization and how designers are collaborating with other partners at scale.
Tess Dixon, Director of DesignOps at Condé Nast: "I like Meredith Black's definition: 'DesignOps is everything but design. Keep designers focused on the work and let DesignOps handle the rest.'"
Taylor Oliva, Head of Design Operations at Instacart: "At its roots, Design Ops is the team that focuses on tackling all of the overhead for making great design, research and content work happen. We nurture the optimal environment for our teams to create high quality and impactful work."
Your Design Ops Experts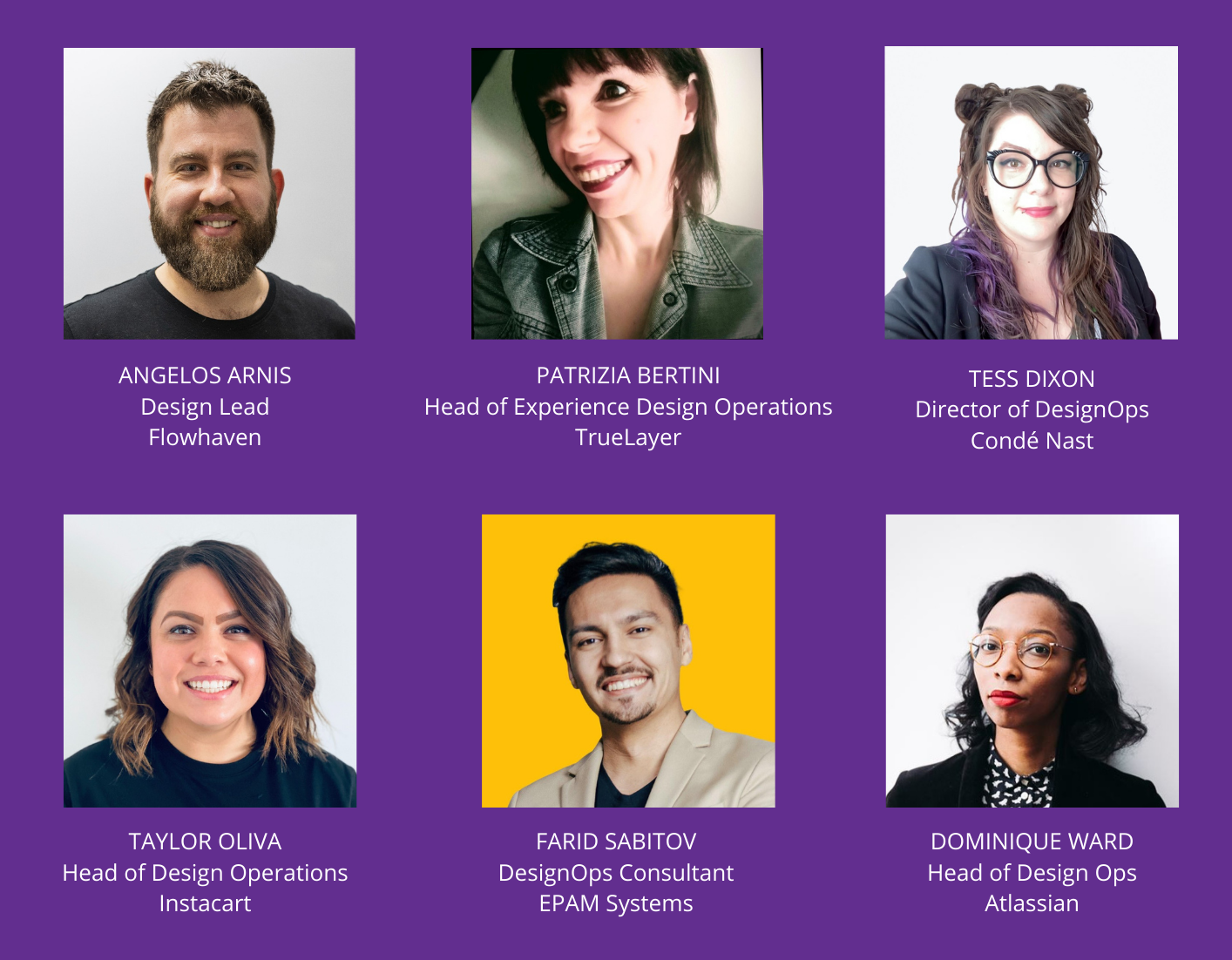 What areas/topics/functions are key parts of design ops?
Patrizia: "There are three key areas that are critical:
Business management: Everything that enables and optimizes spending efficiencies and increases Design's ROI…
Design management: which includes the definition of operational efficiencies through cross functional engagement models, streamlined processes, optimised tools'  ecosystem, embedded best practices, templates, playbooks….
Team management: It's the culture, the growth, the development, the ability to work in a psychological safe environment and to achieve the life/work balance that empowers designers to produce great work."
Farid: "Together with Friends of Figma, we created a DesignOps Skill Matrix that might answer the question:"
What kind of problems do you think design ops solves best?
Tess: "Nitty-gritty, logistics problems are where we really sing. And any problems that require some focus on a broad, whole-team level really benefit from being tackled by DesignOps, because they truly represent and think on a holistic level, and don't come at an issue with their own specific brand or discipline's needs at the forefront."
Taylor: "Big, grisly problems that have been on the back burner (often due to the team's limited bandwidth), that require figuring out a game plan, and pulling the right folks together to execute on it."
Patrizia: "DesignOps should always be metrics driven, therefore, if design ops is able to define solid, credible, and quantifiable measurements to a problem those are the problems DesignOps can solve best."
Dominique: "A lot of the things that I focused on when I was a team of one where org-wide things - How do I partner with the heads of design to identify the pain points across the org and figure out cross org solutions for that? Or opportunities to build that and also advise them given that I can't take on the tactical work out of that?
As we continue to grow, we'll embed design ops leads into each of those pillars or organizations, and they will then partner with those Heads of Design in their next roles of leadership. Then we can identify, what are the pain points that are happening within the Agile DevOps team? How do we share those learnings, those pain points, those solutions that we've come up with and share it across the org so we're all benefiting from it?"
What kinds of companies do you think design ops is best for?
Taylor: "All companies. If the company has a Design team, it needs Design Ops; and the sooner, the better."
Tess: "Any company with more than just a small handful of designers could probably benefit from one or more dedicated DesignOps resources. But no matter your company's size, DesignOps as a practice is always happening whether you know it or not, so those practitioners can always benefit from learning more about DesignOps and taking advantage of those resources when possible."
Angelos: "Honestly, there is no one answer to that as well. DesignOps at the start of a design team helps a lot to have just as a mindset, but it wouldn't make sense to have an "official" role hired for that. As a team grows (5-6 people?), all the challenges are also growing exponentially, and therefore bringing a person there that is able to start working on systems and processes is good. They make sure that there are things set up for the design community to grow and create feedback loops so that the growth of the team does not mess things up.
The golden ratio of companies to start hiring DesignOps (from the state of DesignOps report) seems to be though around 20-30 people (where companies hire DesignOps people for the first time and invest heavily into)."
Why do you think design ops is essential for companies to have?
Farid: "DesignOps experts already have experience in creating/accelerating practices within the organizations."
Dominique: "...to ensure that we're not doing things in silo, that we're building a shared understanding across the craft so we, at the very least, have the same language and that we're pointed in the right direction. Because that's the thing. When it comes to teams, whether it be conflict or missed roadmaps or missed expectations, it's because you're not pointed in the same direction when you start."
Tess: "As a separate function, DesignOps is a force multiplier: if you have more than a handful of designers, you can benefit as a team by allowing people to specialize and really dig into / become an expert on a certain area. When you "bundle" the ops work in this way, you cut down dramatically on context-switching, which we all know is the bane of modern knowledge workers and our biggest struggle in trying to remain focused and actually complete work."
Patrizia: "DesignOps is nothing new, no design team could have ever worked if someone within the team would have not already focused a percentage of their time on tools and processes. But since design teams started growing and scaling, tools and needs became more complex to manage, and the role of design moved from visual to experiential, managing the operational side became a full time job.
"So the importance of designops is only measured and measurable on the tangible benefits and impact it brings to the team: the reduction of expenses, a streamlined E2E design process that embeds all best practices by design, an increase of the quality of the user experience, an increase in ambidexterity, a new focus on ideation and innovation, a reduction of errors…
"It is up to every company to understand the waste they currently have due to poor prioritisation, limited ability to plan, excessive spending on tools with limited ROI, or a high churn… if an organisaiton wants a stable, happy, effective design team that delivers quality and results, that is when DesignOps can help."
Angelos: "DesignOps helps to create better ways of working and therefore the outputs and outcomes of Design become better. When designers focus on what they do best (designing), not only this is a good investment for a company but also it makes sure that design happens effectively and with good quality (and designers feel saner 😄)."
How did you get into design ops?
Angelos: "I got into DesignOps by necessity, as I usually say. Often people are doing DesignOps one way or another. We just tend to not call it something specific. But it is work that takes away from our regular "design jobs".
There were many problems within the design community in a company I was working at and when I heard about the "profession" from David Malouf and Meredith Blank, things clicked in my head. I started by doing my own efforts and advocating for better design structure, processes, and documentation. Since then I tend to jumpstart DesignOps in the companies I work for by default."
Tess: "Like many people, by accident! I had a years-long career in Support, and figured I would continue in that vein. But then a former colleague from Tumblr reached out to me and asked if I would be willing to work with designers in a role that would leverage my operational and people management skills. I learned the term "Design Ops" soon afterward and never looked back."
Taylor: "It was a very nontraditional path… which as it turns out, is pretty common in the Design Ops space. My path to Design Ops actually started with my first job working in tech: recruiting operations, which was the result of an unintended career shift into agency recruiting. After a few years of running the day to day operations at the agency, I decided to apply for a role in-house, and was hired as a Recruiting Coordinator at my last company, Thumbtack. In that role, I had the chance to support the Design Org's recruiting efforts, forming the relationships with the team that would lead to becoming their first Design Program Manager two years later. The running thread throughout my career has been working in roles where I can help make my teams more efficient and build a strong sense of community; DOps is the perfect function for doing both!"
Dominique: " I've been a nerd all my life, but I really wanted to be an aeronautical engineer and so that's why I went to Purdue to study engineering. Then I woke up one day and I was like, "There is no future or job prospects in engineering so I'm going to switch my major to philosophy…
One of the things that I've always been interested in is getting to the root of a problem and figuring [things] out from there, which is at the end of the day, not that different from engineering or design or philosophy."
What kind of roles have you had in design ops?
Patrizia: "I find titles so volatile and difficult to understand these days… Since I started driving cross functional and cross geographical initiatives, I have [had] titles such as International DesignOps lead, Head of DesignOps, Director of Design Operations… It is not so much in the title, but in the impact and the operational altitude.
I have a strong view on the differences between DesignOps and DPM (design program management): the latter executes the strategy and the vision set by designops. DPMs are critical to execute and achieve success metrics, but DesignOps is a leadership and strategic function that defines goals, success, business outcomes, and the overall operational direction."
Tess: "Design Manager was my first title, and in that role I was directly managing designers as well as shepherding the team through defining their rituals and putting some basic processes in place.
As time went on and my scope (and the size of our team) expanded, I developed this into a full-fledged ops practice, moved away from directly managing designers, and became the Director of Design Operations. The easy way to define what I do currently is just to say 'everything but the actual design.'"
Angelos: "My first role was not even a role, it was just me ramping up efforts in my spare time at work. It was never recognized by the company, however, the design team I started helping still talks about the goods of bringing that mentality over there. And since then, they now have a formal DesignOps role hired.
My second role was DesignOps Lead. Again I sort of jump started that, because the person who was leading design there, saw the benefits, and we agreed to work together. In that company, my role was trifold and it sounds much but first I helped with establishing a design system and acted as a product owner for it, then I assumed more DesignOps responsibilities by working with business and engineering on our shared processes, plus researching designers so that we can create a unified design process. The third part of that role was active listening and supporting designers with everything they needed to succeed."
What are some of the most interesting design ops works or projects you've seen or been a part of?
Patrizia: "Some are focused on efficiency, others on efficacy, others are experiments whose value is in the learnings they provide.
On efficiency, introducing a global research participant sourcing function across 7 regions and increasing research by 400% with a 180% saving is surely something I am proud of.
On efficacy, driving a data-informed approach to design and turning P-Shaped designers into π-Shaped designers, with an increase in analytics' confidence of 30% and an increase in engagement with analytics platforms of nearly 170% in 6 months is something I am certainly happy about."
Farid: "Creating a Design Department newsletter with all the metrics in one place that is connected with Jira and generated in Coda"
Angelos: "A project I am working on is the State of DesignOps, where I am running a global survey on the state of the profession. In 2022, we had over 440 answers from all over the world, and I aim to publish the results in September."
What advice would you give someone who's thinking about getting into design ops?
Patrizia: "Learn about design, to practice design, to embrace ambiguity. And design is not just doing design—it's research, copy, content, service design. A solid understanding of service design and research definitively helps, and experience in a design role before are critical.
Learn change management and system thinking, practice influencing and negotiation, enjoy failing and learning, and experiment as much as possible.
DesignOps is not program management or project management - designops is a strategic function that delivers tangible outcomes. It sets initiatives and programmes and defines quantifiable outcomes."
Taylor: "When joining a team, especially if you're Design Ops hire #1, spend your first 2-4 weeks listening. The inclination for the Ops practitioners is to go into problem solving mode, and start fixing things. But in Design Operations, you're designing human centered programs and processes, so you have to get to know the people you're designing for.
Go on listening tours with the Design team members, the team managers, the business partners (HR, IT, legal, finance, recruiting), and learn what's working well, what's not, and what needs immediate support. Then, pull together your game plan for tackling the team's most immediate needs."
Farid: "Working in large consultancy companies will help you to master your DesignOps practices because you will have a chance to test them with specific domains, team compositions, and different cultures within a short period of time."
Tess: "Be like a sponge and soak up all the information you can. Join groups like DesignOps Assembly and Rosenfeld's DesignOps community, show up to talks and conferences, read all the articles, and listen to all the podcasts. Save anything that resonates with you or applies to your situation, and use the resources you've built up to come back to over and over again while you're implementing and learning.
And resist the pressure to take everything that happens on your team personally. As the DesignOps person on the team, you kind of naturally feel an ownership over the team's culture and results, and it's hard to decouple your personal worth from how others are behaving. There are so many things outside of your control. Remember that your job is to provide support and opportunities to the team with the resources you've been given, but you cannot force anyone to actively participate and you shouldn't feel less-than when they don't."
Angelos: "Join a community, be active, ask questions, do some community work (if you have the time and can afford it). There are also so many resources out there to learn for free from, so always seek the places that collect those!"
What are your favorite design ops resources?
There are a lot of great resources out there! And our interviewees generously gathered all of their favorites for us...
Communities
Conferences
Trainings
Podcasts
Other Resources
✨
Looking to grow your career in operations?
We send out content like this every single week and regularly host virtual events for our members too.
Join the community!