A new path to COO
Hiring senior People leaders into COO positions is a smart move for businesses and something which has taken way too long to become the norm.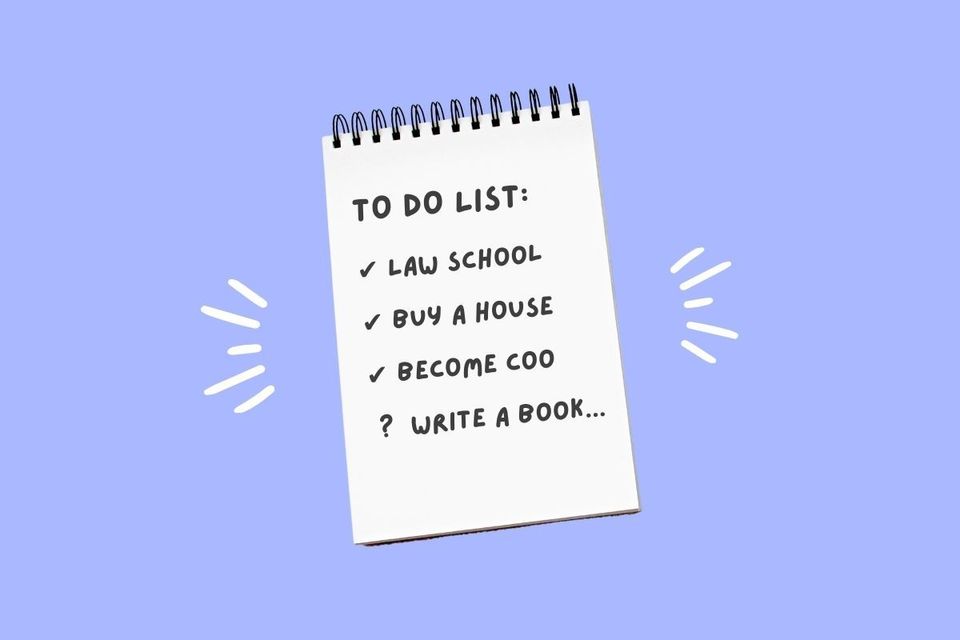 For the last 5 or so years, I've actively been on the path to COO. I don't mean, "in retrospect I now see I'd been on this path all along." I mean I have had a post-it note above my desk with a checklist for years.
I could see that I was getting too comfortable in my People Operations space earlier in 2019, and while I moved into a new role during the pandemic, I was being approached for various CPO roles which I made the difficult decision to pass on. I wanted a role that put me directly in the path of what I knew I was ready to do: leading operations.
How I got here
I've always been a commercially minded People leader. Like many roles, different people make the job their own, and I've always tried to take my responsibilities in HR and People Ops and turn them into something that worked to my strengths: broad, operational, strategic, and deeply commercial.
I made the active decision to complete my law dissertation in an operationally appropriate area, to take on opportunities to model and manage P&Ls, and to lead teams outside of People Ops (facilities, operations, project management). All of these decisions were in service to my goal of moving into COO roles and responsibilities.
A few weeks ago I spoke at an event called So you Wanna be a COO? We spent plenty of time just talking about what exactly the job is… before confirming that there is no such thing as a 'straight line' into the role.
Despite that, I've often seen the path to COO advertised as quite generic and (for many) unapproachable: Management consulting and MBAs (Master Business Administration).
However, in my experience, the best things you can cultivate for a COO role are: a deep understanding of business, people management skills, and knowledge of the startup ecosystem.
More and more frequently, I now see other senior People leaders move from People Operations into COO positions. It's a smart move for businesses and is something which has taken too long to become the norm.
So that's what I am going to talk about today: the path from POps to Ops.
Why founders should consider it for COO candidates? And why HR leaders should consider it for a career?
What is a COO?
Ask almost any Chief Operating Officer (COO) what their role is, and you'll receive a range of responses. Indeed, HBR published a wonderful article which outlined the Seven Kinds of COO. It is a shared acknowledgement amongst c-suite operators that the role exists somewhat like clay; moving to the shape of the business, the strategy, the executive team, and the individual themselves.
The role of the COO isn't typical, and it isn't fixed. Different companies have very different profiles, approaches, and requirements for their COO. (And sometimes these change within a quarter!) However, the responsibilities of a COO in a Seed, Series A, or Series B company tends to include:
Company Ways of Working. This means complicated things like entities and company ownership hierarchy, all the way to ESOP contract structures, or smaller decisions like which frameworks to use for ways of working, such as DACI.
Budgeting and Forecasting, Cash Management, and Financial Reporting. What it says on the tin, the COO (particularly of smaller companies and those without a CFO) will be focussed on cash management, financial planning, and reporting.
Hiring, Culture, HR. This covers the hiring decisions, process design, employer brand strategy, and executive & leadership hiring. Also (and particularly in the absence of a senior HR leader) the COO should be highly focussed on organizational design, performance, and leadership behaviors.
General and Administrative (G&A). This is kind of everything but the kitchen sink. A great COO is a good generalist, and is able to take on leadership and people management skills for a range of different functional areas from Legal to Customer Support.
Internal Planning and Comms. Goal setting, operational cadence, internal company strategy and delivery. Decisions around OKRs and Goals, not just setting but also tracking and implementation.
Exec Team Operations. In the absence of a Chief of Staff, the COO will be there to keep an executive team efficient and strategic, working with the CEO to structure exec meetings, planning, and tactical decision making.
I am a specific type of COO. Using the HBR model, I'd place myself somewhere between The Change Agent and the Other Half.
I see the company and it's culture as a product of its own. You build whatever it is you're selling to customers, but you also build something else entirely—you're selling it to candidates and investors, but also more and more to customers. (Because customers care about the companies they purchase from and how they run.)
The CEO is accountable for the whole business: the sum of the company, the product, the brand, and the potential/strategy. Within that, I see my role of COO as being the person responsible for making the company itself valuable.
This is not wholly different to the role I see for a Chief People Officer or VP People, where the product they manage is the culture and employee experience.
Why People Operations make great COO candidates
A commercially minded People leader who views the culture and business as a product, should have no problem shifting into the COO seat.
Crucially, a COO role requires something which an MBA alone cannot offer, and which is abundant in strong VP People profiles: battle-tested people leadership.
Some Math.
If you are a SaaS business like Whereby, your headcount is likely around 60% of your annual spend. On top of that, your People Operations and Recruitment team manages what is likely the largest portion of your G&A budget. These two financial facts combined mean your People Operations leader is likely looking after the greatest investment your company has right now: your team. This alone should give them the credibility to be considered a highly commercial candidate for COO positions.
Furthermore, the role of VP People is naturally broad and stretches from high-metric and scalable tasks such as recruitment, to high-empathy and communication tasks such as organizational redesign and communication.
Commercial People Operations leaders have strong experience in very key areas for COO roles:
Leadership and management,
Communications,
Strategy,
Budget management,
Goal-setting, and
Understanding a business as a whole (org design, performance, etc.)
The biggest weaknesses for a COO role coming from a People Operations background will be finance — and specifically revenue. The People Operations leaders being considered for this role should already own a budget and grasp how AP functions best.
Furthermore, I think all strong business leaders should be fluent in analysis and know their way around analysis tools like ChartMogul, as well as Google Sheets, so that should be table-stakes.
If you are a company hiring a People-COO, you should build a strong financial foundation under the strategic and operational leadership of a COO, perhaps a Director of Finance. Another alternative, particularly if you are a sales org building an aggressive go-to-market, is to invest in a very financially experienced CCO or CRO.
The path from People Ops to Ops
The path from any career into the COO role is not an easy one to identify. Being the Head of Business Operations doesn't guarantee you a COO role, which alone highlights the non-linear path into these kinds of positions.
You need to name your intention. Tell your manager, mentor, CEO, or founder you want to move into the direction of COO from your leadership role in People.
Once you've named it, you can chase it.
From here, the most important things to focus on building for your move into a COO role are:
Cross-functional leadership skills: Look for opportunities to lead teams or projects across more than people initiatives. Compensation & benefits, organizational design, and strategic goal setting are all great opportunities to grow in this direction.
Strategic problem-solving skills: Ask 'Why' more often than you are asking 'How'. Strategic problem-solving skills enable you to anticipate solutions and deal effectively with unforeseen circumstances. Moreover, knowing the Why and thinking from first principles sometimes means you will pick $50 later over $10 today, and that you will be looking at the problem "around the corner" rather than the one your team is focussing on now.
Learn about the business: There is always an element of risk involved in businesses and decision making, and it'll be up to you to minimize operational risk as much as possible. COOs have a responsibility of seeing the "big picture" in order to identify risks and opportunities on a wholesale level, rather than just in one specific functional strategy. This is a skill which high performing leaders should cultivate regardless of their role, and what sets a good functional leader apart from a great one.
Learn about the industry: You need to understand how venture capital works, which metrics a company should be looking at beyond People Operations, and what the market is doing. I suggest following your VCs and competitors on Twitter, subscribing to newsletters and blogs in a variety of functional areas. Engage in communities within your industry. Care deeply about your company and its place in the market.
Good written and verbal communication: Communication is important for all activities, specifically in a hybrid-first world. The ability to articulate complex ideas in simple terms and to correspond with others in writing is essential. This doesn't just mean standing up at the all-hands, but also thinking about the 'fabric' of the internal communications — from executive board updates, weekly goal reviews, and how to update the team on key policy and strategic changes.
I'd say that great COOs usually develop their skills through networking, experience, and education. Don't overestimate the value of going back to school, either to do a part-time degree, a short-term finance course, or to visit a conference for Analytics.
It is also important to stay aware of the skills you have acquired along the way, making note of key projects or skills you're working on developing.
The first few months will be hard.
I see myself in this role for life. I love the complexity, pace, and breadth. Even with that in mind, the first few months were rough.
I tell my own team that every promotion should hurt. It's shifting from the comfortable, the easy, the success — and into the grind of something new: higher expectations, new tasks, less oversight. This alone is one of the reasons many companies elect to withhold promotion until someone is demonstrating 75% of the required role already.
Even if you are already demonstrating your capacity for the COO position, you should feel the hurt for the first few months — and if you aren't, you are either too comfortable, or not taking on enough.
I was recently at a Operations networking event and someone asked me for my one piece of career advice, and I think it's important here:
Be opinionated.
Don't be afraid to have opinions about what other teams are working on, and how it not just affects your team, but the business at large. If you're successful in being opinionated it means you have your own work together and on track, and that you're able to see how it nets out into the bigger picture.
The best People Operations Leaders are opinionated, and very, very capable.
✨
About the Author —
Jessica Zwaan
is a hands-on Chief Operating Officer. She finds her joy in diverse, kind, and world-changing companies of excellent people, which is why she's at
Whereby
, where their mission is to build a world where
anywhere
works. (How fantastic is that?) You can find her on
LinkedIn
and
Twitter
.
💬
Continue the conversation
— Become a
Founding Member
and join us in Slack to talk more about the COO role and your own path in ops.