Opsy Guide to Business Operations
The super-powered generalists solving problems for all areas of the business.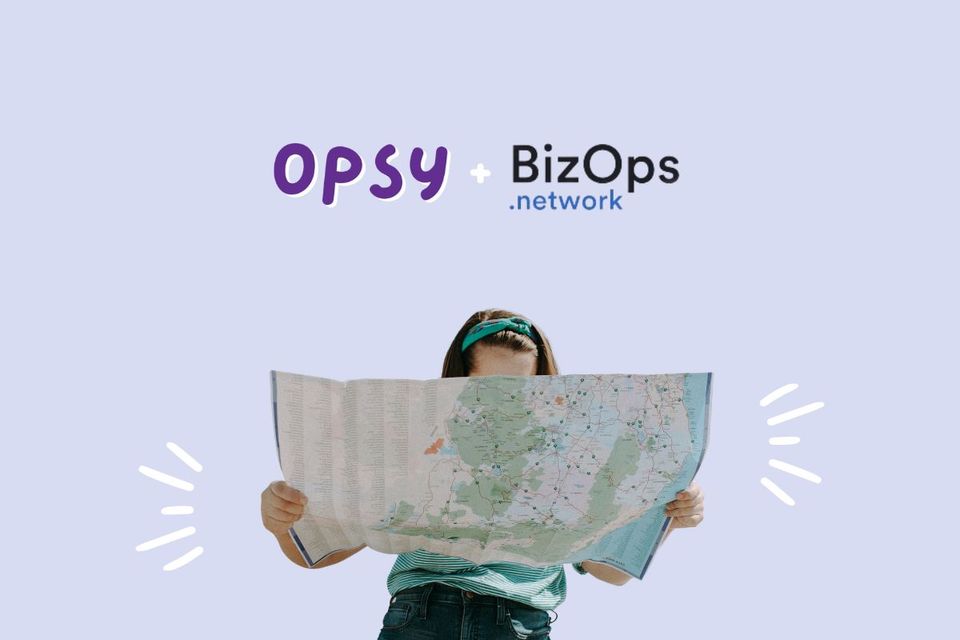 There's a lot of talk within operations about specialists vs generalists but, today, we're going to talk about the team of super-powered generalists that call themselves Business Operations.
BizOps, as it's commonly called, looks a little different in every company so it can be hard to wrap your brain around it.
What exactly is BizOps? What kind of projects do these specialists work on? And is it a role you should consider?
After our chat with Stephen, we couldn't resist digging even deeper into these questions and more!
Why We Made This
We know that business operations (or BizOps, as it's currently called) brings a lot of value to teams and organizations, but that it can be hard for an outsider to wrap their brain on exactly what and how BizOps works in practice. That's why we went straight to the experts!
We interviewed specialists from both Opsy and the BizOps Network to put together this guide that will answer all of your questions.
What You'll Find Here
You'll hear what BizOps is—and what it's like to work in the field—directly from the folks who do it day in and day out!
So, whether you're considering a career change, curious about what your BizOps colleagues are up to all day, or are hoping to borrow some best practices to do your own job better, we've got you covered. 💜
🎙️
Don't forget to check out the BizOps episode of the Opsy podcast!
Stephen shares his own path into BizOps, how his role is changing as he builds out his team, and what he looks for when hiring.
The Opsy Guide to BizOps
What is BizOps?
Stephen Levin, Head of Business Operations at Zapier: Broadly speaking, we handle problems in one of two categories. Things that are so cross-functional that they don't fit neatly elsewhere in the business... and the most important thing that is under-resourced at the business at a given moment.
We are a talented set of generalists that are able to apply those skills wherever in the business would benefit the most from one talented person. And so that can mean anything from sort of owning and driving a strategic priority, to project managing rollout and orchestrating behind the scenes, to literal on-the-ground, individual contributor work that just needs to get done.
Danyelle Merino, Senior Director of BizOps at ShiftMed: Ah, the existential question. BizOps's purpose is to identify, scope, and execute on highest priority company initiatives (I like to say, "get sh*t done") by acting as the connective tissue across the org & being completely objective.
Manaan Alexander, Operations Lead at CommandBar: I see BizOps as the special forces/projects unit of the org. You take a wide variety of work streams and have to learn about new functions. You're the main person.
Alyssa Higgins, Vice President Business Operations at CipherHealth: BizOps is the view of the people, processes, and technologies used to drive towards corporate objectives . BizOps as a function is responsible for the synchronization of how people, process, and technology work together to achieve those objectives through project management and KPI reporting.
Your BizOps Experts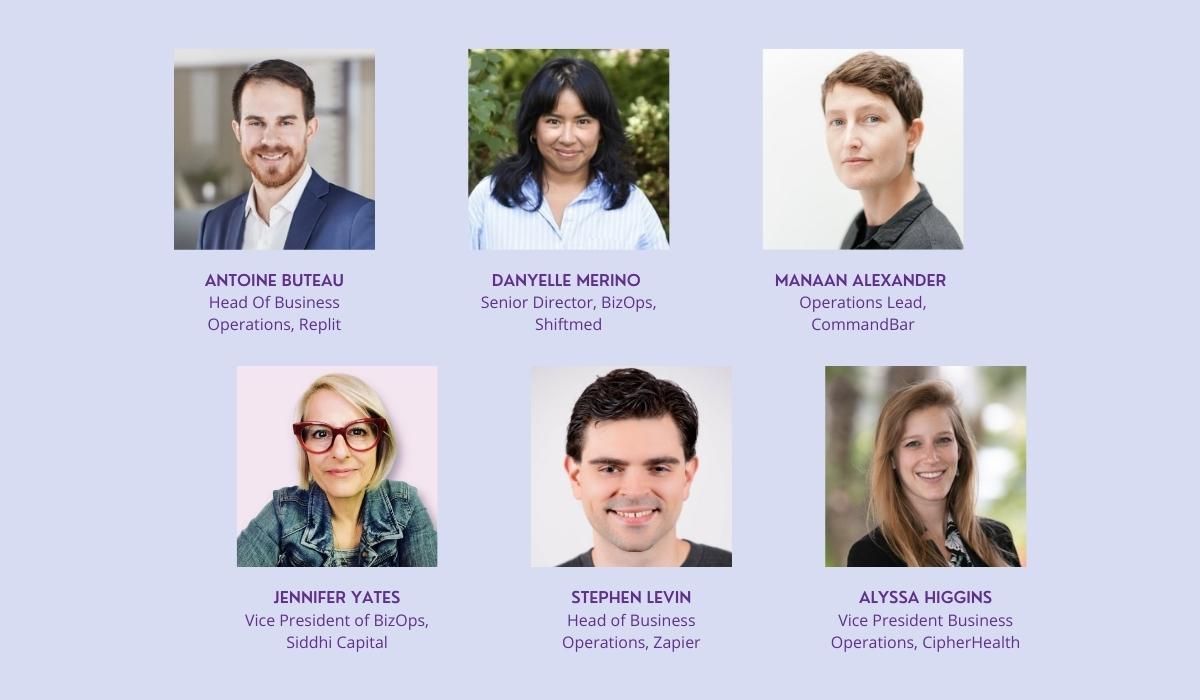 What kind of problems do you think BizOps best solves?
Jennifer Yates, Vice President of BizOps at Siddhi Capital: I like to think that BizOps solves the problems that are making a business work in a segmented way. Processes, programs, projects are disjointed and cumbersome. We move a business from segmented to smooth and cohesive.
Antoine Buteau, Head Of Business Operations at Replit: I structured [our] BizOps team so that we hire generalists who have all three proficiencies: business, technical and analytical (with one primary).
BizOps is more of a Pull function than a Push function, so we strive to have the flexibility to give analytical, strategic and operational lift on initiatives. We complement the teams to 'plug holes' when there are insufficient resources or other functions don't exist yet.
Danyelle: To put it plainly, we own problems that lack a clear owner & are cross-functional. If you ever sat in on a meeting where there didn't seem to be any clear agenda or clear takeaways so you left it thinking, "Hmm…probably not the best use of my team", BizOps can & should be able to solve for problems like that.
Manaan: BizOps is best at doing the 0-1 work for all types of problems. Learning about new areas, strategizing solutions and putting process in place for the next set of owners.
What type of businesses do you think should have a BizOps specialist?
Danyelle: The stage & size of the company definitely play a role into whether or not you need BizOps. There's a slew of questions the leadership team should ask themselves like:
Is there a lack of cross-functional collaboration?
Do you need someone to focus on short and long-term company planning without a specific team-led bias?
Do you need accountability or a framework like EOS or OKRs for company planning?
Do you need someone who can incubate functions, like data and business intelligence?
If the leadership is in alignment on the questions above and there is an executive sponsor (i.e., where BizOps will sit under), then it seems clear you are ready for BizOps!
Jennifer: The bottomline is that every business, at some point, needs a process for operating. I see two main inflection points—the first triggers the need for a BizOps Generalist and the second signals bringing in Operations Specialists.
Many startups can't afford a generalist hire too early on. But, once they reach that critical inflection point where certain tasks or functions are repeating regularly without a framework, without a standard process, without programs in place, it's likely time to get an Operations Generalist to set the foundation and rigor before the business spins itself into a mess. (Although show me a BizOps who doesn't love the clean-up!)
Companies can likely start with a BizOps Generalist, someone capable of handling multiple business functions, but, as the business grows and scales, is divided into multiple departments, and becomes more polygonal, it reaches a second inflection point. One in which it needs to bring in Operations Specialists, like Marketing Ops, People Ops, Financial Ops, Product Ops, and so on.
Alyssa: I think any company at any size would benefit from a BizOps specialist. I believe that like many other roles, BizOps will evolve as the company does. For smaller stage companies, you might have someone who is more analytically focused, or a generalist who is assisting with strategic projects and wears many hats.
As the company grows, BizOps might evolve to be more focused on strategic planning and project management or developing more sophisticated business intelligence processes.
How did you get into BizOps?
Danyelle: Like many folks, I did not start in Ops! Most of my career was in email marketing in the e-commerce/retail world (creating loyalty programs, understanding our email audience, analyzing purchasing behavior). I pivoted into my first tech role during the height of the pandemic and had a leader ask if I wanted to create a BizOps team. I said, 'hell yea' but had no idea what that entailed so I spent months and months understanding the role, networking, and diving in.
Jennifer: By accident, really. Historically, I've been that "glue" in roles like project management or solutions management or, heck, even event planning. When I joined my current company as a Director of Projects, I started helping them in all kinds of areas from process creation, to recruiting, to people and culture, to tools and tech. It made sense when I was promoted that my title should reflect my work. I was impacting the business in all the ways it operated. So there ya go!
Antoine: I worked in software implementation for a B2B Enterprise SaaS company for 2.5 years. After that, I joined a strategy consulting firm as the first employee. We had a focus on middle market technology businesses (B2B, B2C, eCommerce, infrastructure). I spent ~5 years there, grew with the firm and my role spanned general management, sales and implementation. I had the opportunity to become a Partner at the strategy consulting firm, but I wanted to work in a more technical environment and go back to a startup environment. I found the Replit role via startups.jobs.
Stephen: About seven years ago now, I cold emailed [the CEO of Zapier] and said, "Hey, I think you need a biz ops person or a Chief of Staff. Here's what that means, here's why I would be good at it." He emailed back, "I don't think I need that, but I liked your email. So let's talk anyway." ... I actually got pretty deep into interviews for three different roles until I eventually was hired onto the data team. So, I started at Zapier as our first marketing data analyst, but Wade and my boss at the time, the Head of the Data team, knew where I wanted to take my career.
What happened in that evolution is that I took on more and more responsibilities through [the company's] growth. Every time I had to put something down, we kind of looked at that and said, "Well, we don't really want to put that down, so let's hire someone else to do that." And, so, that's how the biz ops team practically started. We would have some very specific thing that I would have done but didn't have time to do and we would hire someone to do that. And then, knowing that oftentimes those things are cyclical, that sort of justifies the additional headcount needed for the next person.
Alyssa: I took a non-traditional path into BizOps. My background is in marketing where I ultimately held a leadership role in demand generation. I found myself consistently drawn to the multi-phase, cross-functional projects in addition to agile process development and campaign planning. The skillsets and projects in that role translated well into the needs of my current BizOps role.
What kind of roles have you had in BizOps?
Antoine: When I started at Replit, BizOps focus was on FP&A, RevOps and sales for our B2B and education product. Shortly after, we decided to make the education product free and hired a finance team, so our focus changed to international growth, marketing analytics and supporting other special projects in growth. Now, we're mainly focused on monetization and profitable growth. That means helping on go-to-market, revenue & cost analytics. We still have a fair share of special projects in business deveopment and in building the business foundations.
Manaan: I've worked as the Operations Program Manager for an Insurtech startup, a fractional BizOps consultant for early stage startups and now as the Operations Lead for a Series A start-up. In my current role, I own HR, Finance and Accounting, RevOps, Compliance and whatever other functions require support.
Alyssa: My role has been a mix of strategic projects and planning, chief of staff responsibilities, and business KPI telemetry and measurement.
What are the most interesting BizOps projects you've been a part of?
Jennifer: I audited 100+ projects across 20 start-up food and beverage brands, then developed a system and templates for project planning and execution. I architected and built an Asana system from scratch to go with it. Then, I rolled out the entire program following a multi-month roadmap. The most skeptical became ambassadors. Employees reported a 67% increase in happiness with their work.  Ad the team was able to take on more projects, improving our ARR by 29%.
Antoine: I've been at Replit for almost one year at Replit and had a lot of interesting projects.
We raised ~$5M from our community through Wefunder. We did it in a short amount of time. It was quite intense, but rewarding to see the love from the community.
We launched a Creator Fund for summer 2022. The idea was to pick 50 projects on Replit each month and reward creators with $500. Most of the creators were students or outside North America and $500 can be a life-changing amount for some of them.
And we launched a usage-based pricing model on Replit. It was a complex project with impact across product, engineering and also finance. We had to revamp how we assess and track metrics.
Stephen: Zapier has 10 years of historical customers that have been left on legacy plans, and so we still have people who are paying rates that are 25% of today's current price point. And that's largely because they're really long-term customers, we wanted to leave them on a great deal, but ultimately eventually you have to sort of pull everyone up to modern price points for the value that you are delivering.
This is the first time we've ever done that exercise because Zapier's broadly been extraordinarily generous to just allow people to sit on those old plans for literally 10 years. So how do we stair-step them out through the future? Who do we just migrate now, who do we give discounts to, and how do we sort of work through that backlog so that we can turn this into an ongoing program where we don't have 10 years of planned tech debt built up again? And so I'm thinking and working a lot with my team, with our build and marketing and support partners about how to get that done by the end of the year.
What advice would you give someone who's thinking about getting into BizOps?
Danyelle: Network, network, network! Meet other folks in the BizOps space and sit & learn from them. Additionally, understand your strengths. BizOps teams & folks work extremely cross-collaborative, are adept in dealing with problems, can put plans into action (amongst many other things) so think about how your skills may complement an organization.
Jennifer: Pick a mentor or a professional "star" that you can observe and emulate.  Practice figuring out something that is completely new and different to you – you'll get strength and confidence from repeated successes – then tell someone about it! Join a networking group of like-minded professionals and help them in whatever way you can.
Antoine: If you don't have the skills or connections, I would recommend doing programs like The Commons (previously Skillful). It's a great resource for people who want to transition into tech or in BizOps.
After that, I would recommend being really deliberate in the job search, by narrowing down on: Type of industry, stage of companies, scope of role and company culture/location. A classic mistake I see is people going too broad in their search, which dilutes their effort.
Ali Rohde Jobs, ExitUp and startup.jobs are my favorite resources to find roles.
Alyssa: Be a good listener and stay open to feedback. Being successful in Business Operations will require you to understand how various functions work and collaborate with each other. By being a good listener, you will start to understand where there is an opportunity to make improvements to the business, and staying open to feedback will help you grow while maintaining the trust of your peers and executives.
Stephen: Being able to differentiate your skills from the entire rest of the market is a thing that you need to figure out how to do. And sometimes your career gives you that opportunity, sometimes it's a side project, sometimes it's something you did in college, sometimes it's your previous manager had a kid and went on parental leave and you had to do something crazy, but it's a powerful mechanism to be able to document real examples of things that you did that were incredibly important for the business. That's a whole vein of work in biz ops—of just cross-functional execution, getting the things done, being able to solve the company's most important challenges.
What are your favorite BizOps resources?
Antoine: Professional networks like the BizOps Network are great resources to learn about the nuances of BizOps and connect with peers about various topics from navigating organizations, building a team or specific challenges.
Manaan: Networks! The Chief of Staff Network, BizOps Network, etc. Often this role is really silo'd or solo, so it's great to have others to brainstorm and work with.
Alyssa: Allison Picken's Substack, The BizOps Network
Danyelle: There are such great communities out there that I've been grateful to be involved in like Opsy, the BizOps Network, and more!
✨
Thanks to
The BizOps Network
for their help with this guide—and introducing us to these great experts!
Their community combines cohort-based learning experiences, a knowledge hub of tactical frameworks, and a powerful community of operators working together to drive their teams forward. You can apply to join
here
.